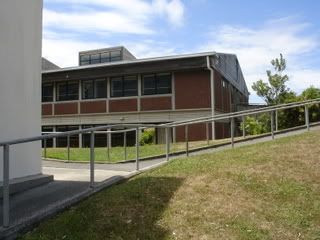 Then you look back to the left and you'll see my new room!
And from the playground it looks like this! I took the last photo from those poplar trees in the distance. The admin block is on my left again now, from a different side! The blue door will be for the classroom, the other door for our study area (you can't get funding for a sacred space LOL!)
You can see the deck is being built right now.
And this is the inside, 'my classroom' OMG! It looks small from this angle. It's wide rather than deep and my desk will have to be at the back !
It WILL be good when it's done. New carpet, tables, pictures on the wall...
This is my old classroom, and my room for one more month, the three windows on the right, upper floor. The admin block is in front to my left.