Anyway, a cut
This is our first church, a neoGothic Catholic church in the centre of town, St Mary of the Angels. I love this one - this is the front: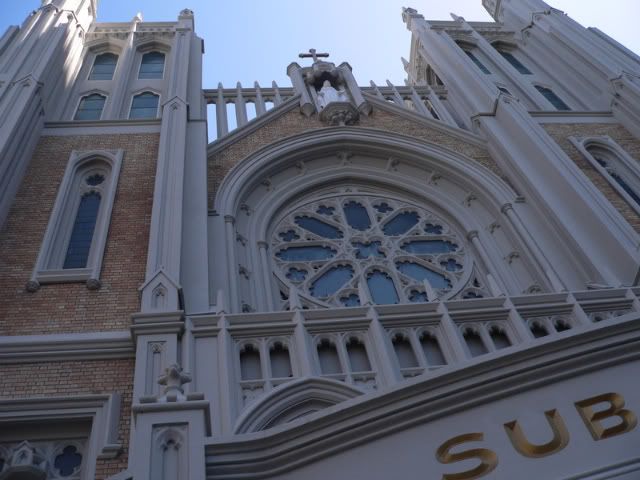 and this is the interior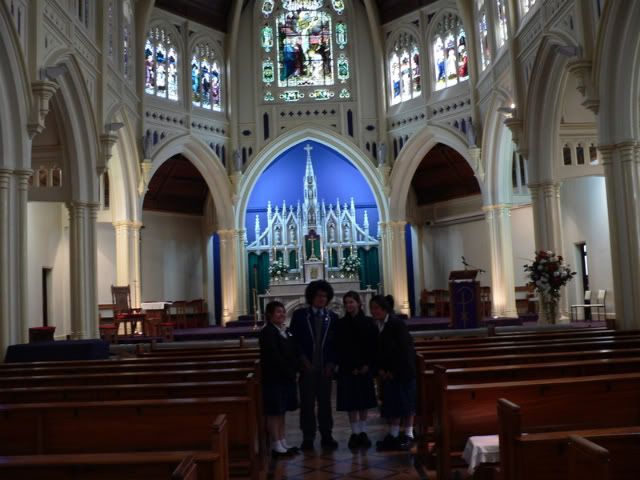 And this is us outside in the reflection of the new glass building opposite. Rex was taking the pic, and Manson, who is fairly small, jumped up to get in the pic *g*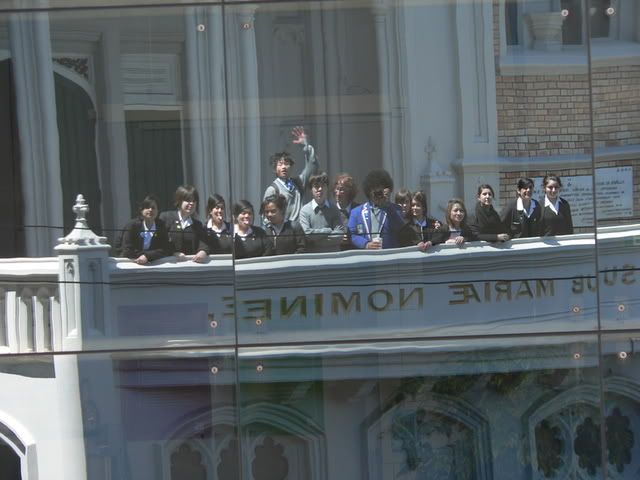 Then we walked a fair way to get to our Catholic Cathedral, a Pantheon styled neoRenaissance basilica, Sacred Heart - I never liked this church, and it was my school church for years. I like the cabbage trees at the side!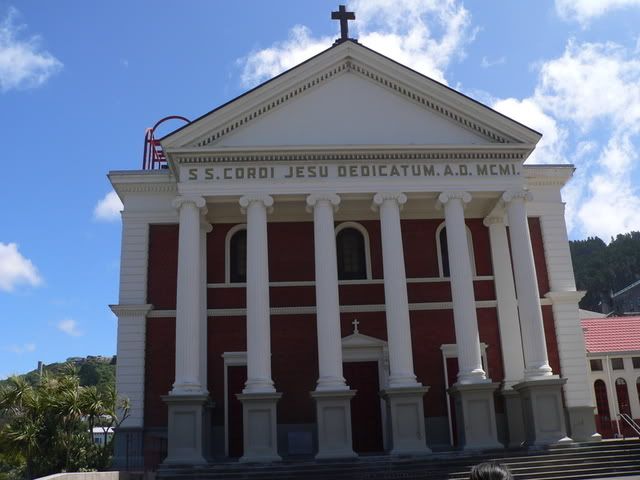 And this is the interior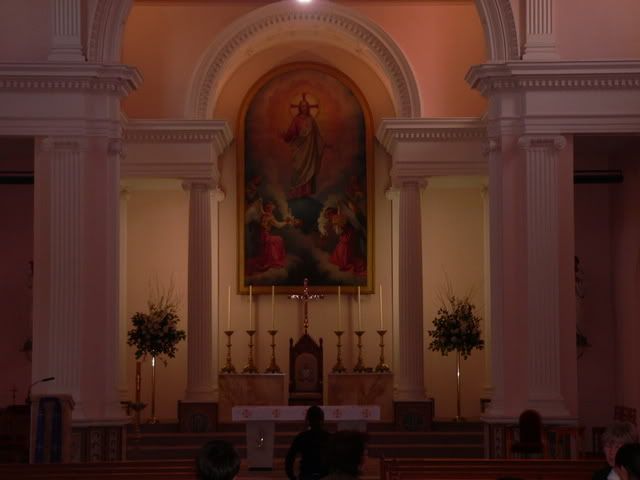 And the side chapel (which is new and much more tasteful IMHO!)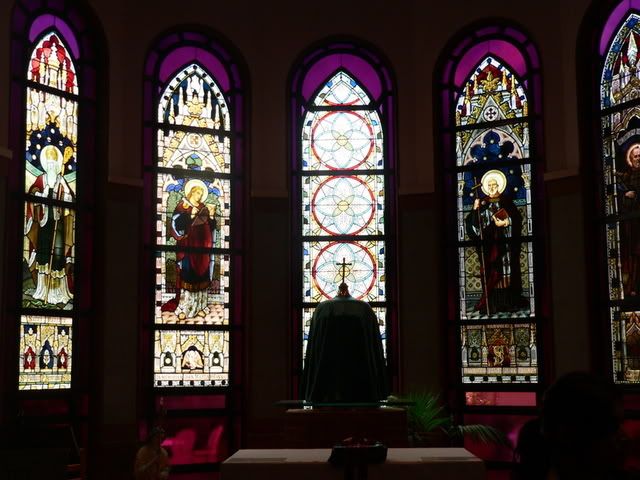 Then we went down the road to the Anglican Cathedral which I don't like much at all, but has a lovely old and tiny side chapel rescued from somewhere - this is one window - I adore this chapel. (If I died and had no friends, I'd like my funeral here - unfortunately, right now, I know a LOT of people who'd probably come to my funeral and we sure wouldn't fit in here!)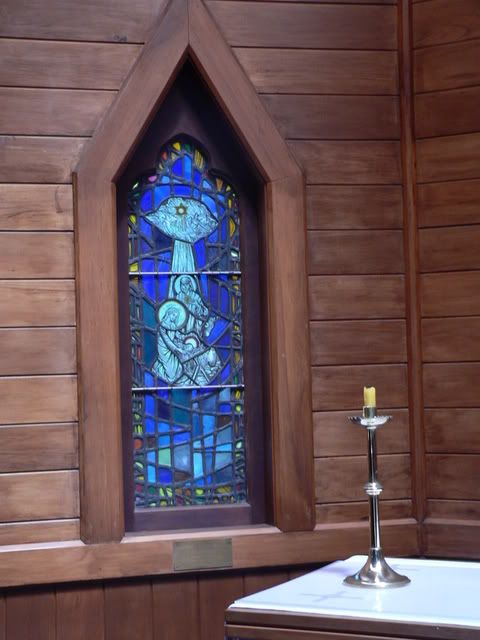 This cathedral does have a wall mural of famous and wonderful NZ women which I heartily approve of! You can see me in the reflection!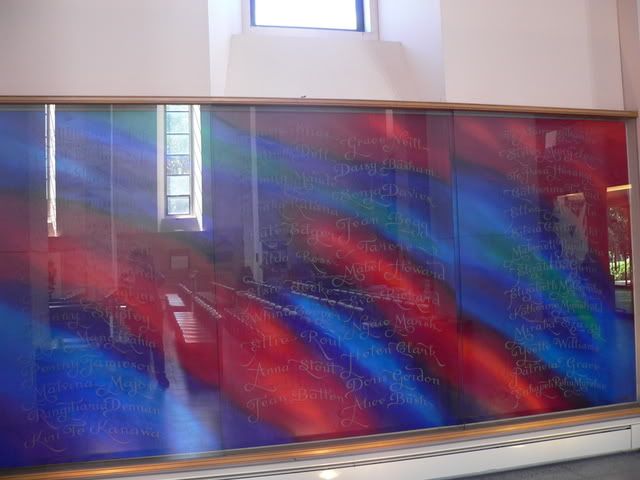 And finally we walked down to Old St Paul's - not used as a parish church but very popular for weddings and suchlike. You can see my arm... the pic is a bit blurry - I have NO idea who took this pic, it wasn't me! one of my students...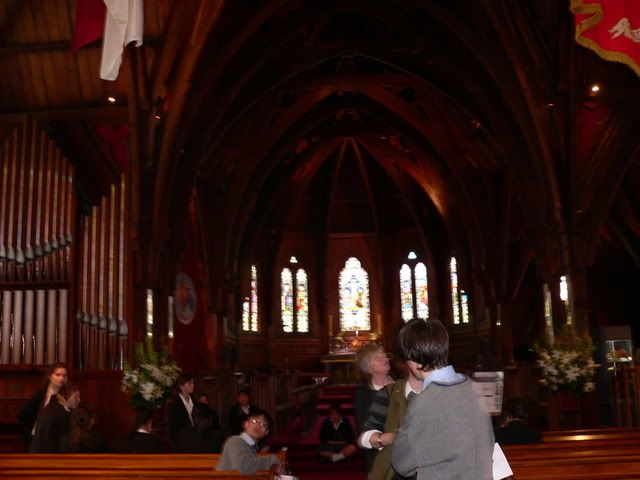 It was a fun trip.
And since then I have been working so hard. I haven't been to bed before midnight for two weeks, I think. And I have a really sore shoulder and my AP and DP (assistant and deputy principals) ganged up on me like they did last term and made me go to the physio. I went this morning, scared witless. She said I'm extremely tense and she tried to 'loosen me up' and I have to go back on Tuesday *snort* obviously not loose enough yet.
I have more to share but I'll come back later. This is long enough already!
I have missed talking to you all so much. From next Tuesday, things get a LOT better for me as our final term winds down. My seniors all left yesterday.
Let's look forward to quieter times for me and more chatting with you all!!
Well, I promised a few pics of our journey around some churches. Photobucket is taking an age to change the sizes of my very big pics, so I'll be patient... or you may just get big pics. I'll do a cut anyway. And sometimes what is a big pic here when I go to bed, has become small in the morning. But I guess big is better to see anyway *shrug*