So. I joined Twitter. Only for very fan-type interest ;-) I can't imagine anyone would want me to tell them all the mad things I do all day. An update at the end should suffice *g* if I just grabbed the time. I got home late this afternoon (I did the Late Detentions after school and one girl had two so we just sat on for the whole hour!) - minutes after I got home, the girl from next door came over with her homework for help. Then the piano teacher arrived. Then a friend of Christy's arrived back from Oz and he wanted to see Christy and to get me to braid a new rat's tail in his hair!
This is my impromptu effort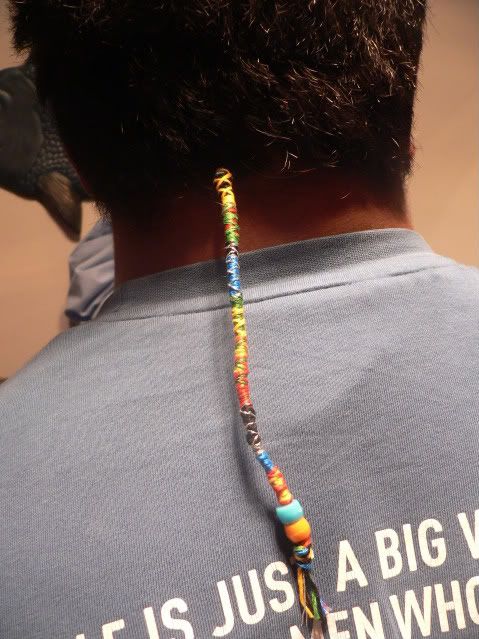 I learned it at a market in Broadbeach one holiday, watching Christy get one. I wanted one myself but I was too shy to say so!
So the house was busy. Steve is away so he couldn't mind the chaos! We woke up this morning to find no one locked the back door last night after feeding the pets! I guess there's not much chance of someone coming in that way *shudder* I will lock up tonight, just in case!!!

So. Crappy start to the day but a good finish. Taught Buddhism to young Catholics today *g* And my juniors watched Jesus of Nazareth LOL! A good little tale.
Enough. Gotta go collect people and cook dinner. See you...