I can't really describe to you how busy I've been, I haven't been to bed before midnight and up at six for weeks until this last week when we've been off school. Not that I got a break, it was Asher's Wellington Rep soccer tournament from Sunday to Wednesday. He had worked really hard to get in the team and is very proud of his name on his own football shirt. Also, Christy has had a dress she designed for the Wearable Arts season (WOW) and it was put in the gift shop window at our National Museum, Te Papa. I'll have to go find you a photo to see.
I also had Confirmation in our parish with nineteen children getting confirmed by the Archbishop under my organisation. Then a wannabe Sister of Mercy who spends two days a week with me in my classroom at school made her First Profession last Saturday and I had to go to that in the Cathedral and be a Eucharistic Minister! OMG I was so nervous, Sisters of Mercy, five priests and the Archbishop again!
I also had an essay on the Synoptic Gospels due the last day of the term. That was hard slog.
I was flat out at school in the last weeks of term with senior report evening, reports to write (I have over 100 senior students) and Mercy Day on the last day of term, which of course is something I have to be in charge of.
It's been one thing after another and there honestly hasn't been a time when I could really justify just sitting here and looking out for my LJ friends. I thought this last week would have been more relaxing but with the soccer and then one of Finn's friends did a 'mean thing' to him that kind of traumatised me a bit the last few days, and I also had to go to a Parish meeting to plan our new outlook, and my boss and I packed up a case of stationery donated by the girls for a poor school in Tonga that went today hopefully, and I have consequently had a lot on my mind. Not to mention the awful, frightful tsunami in Samoa. We work and teach with so many Samoans, it's a big percentage at our school, I can't imagine how the girls will be feeling next week when they come back to school after the break. I assume they will want to do something. I feel such enormous sorrow for the people of Samoa, Tonga, American Samoa and the earthquakes in Sumatra, the Philippines with the typhoon, and in Sicily too even though they'll get the financial support all those other places really need.
I did get some badges ordered for my Mercy Crew, that's been on my mind for a while. My cousin can organise to do it at cost for me. I had to check with the Bursar today that we could cover the $500 outlay - the girls will have to buy their own badges! $5 each. Hopefully that stock will last me a few years of school.
And what else... I flew my mother down for this weekend so she could see Christy's dress in the window. She goes back tomorrow. Unfortunately our whole country has been hit by a sub-Antarctic cold front trapped between a big High to the south and a big Low up north so we have unexpected freezing temperatures and all the central North Island roads are closed. Lucky we didn't drive north this time.
We went to WOW last Wednesday too. It was fantastic as usual although I thought last year's designs were actually better. Christy wants to enter next year's one now, after her success with the dress on the mannequin. She and two others had a big photo of themselves and an article about their work in the newspaper on Friday, so she is really buzzing.
So. I have missed catching up on your posts. I am truly sorry. I'll understand if you'd rather not be friends with such a disastrous soul. But I'll try to have a look at what's been going on. The only thing I've done for me at all in several weeks is - I've been doing some Chinese brush painting this week while we watched tv in the evening. It's been fun. I can kind of paint bamboo and random calligraphy with the traditional brush painting set I bought in China centuries ago!!
Anyway, I'll find a pic of Christy's dress...
Well, here's the night view of the entry to the Museum - her dress is in the left hand window - there were three other students with dress designs as well. They had to do it all, design, dye fabrics, create and sew the dresses. They don't have to move though, just sit on the mannequins!
Here's a closer view
The wrist decoration
And a night view!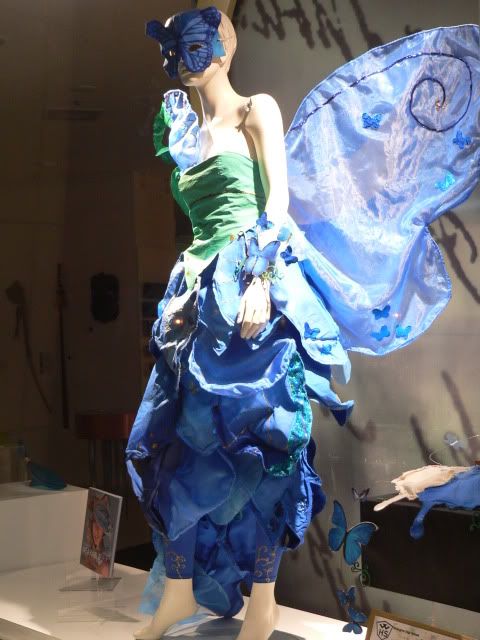 We have to take it down tomorrow morning. It's been up for a fortnight.
Hey there.