When I was a child, we used to drive north every year, through all sorts of tiny townships on the main route, Bulls, Hunterville, Ohingaiti, Rata, Mangaweka, Taihape and so on. Some of them are still there, even thriving in their own little town way, like Taihape and Bulls. But some have gone. Rata has gone. Ohingaiti is just a pub and a railway crossing, Hunterville's okay (and it's less than 1600m long). But Mangaweka had a special place in our hearts. We used to drive through it and up the hill behind town to enter the mighty Mangawekas, a winding, climbing/dropping/climbing and challenging roadway that led you out of the Rangitikei district. It was a nightmare of a road, delving deep into bush then rising high along ridges then down again.
At the first rise beyond the township there was a lookout over a railway bridge. It was a long bridge, and one famous in our family because my grandmother had walked over it at the age of ten. Highly illegal but she was always one for a dare. A bit like that movie, Stand by Me. But she knew when the trains would come. The bridge has gone now, the railway line has moved down below the town, the main road also now bypasses the township, the mighty Mangawekas have been tamed into one huge climb uphill followed by a huge downhill, quite straightforward, and the tiny, abandoned Mangaweka is a ghost town. To show the children, I drove in there today. Bright, hot sunshine, not a breath of wind, and not a person in sight. Dead calm. Dead silent. It was ghost town to the extreme. The pics aren't that good because the sunlight was so bright but you get the idea... (I think they have preserved the Mangaweka garage for historic reasons perhaps. It looks in pretty good nick)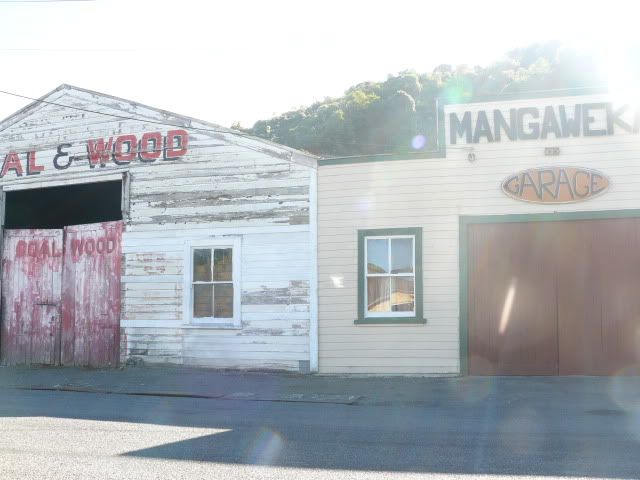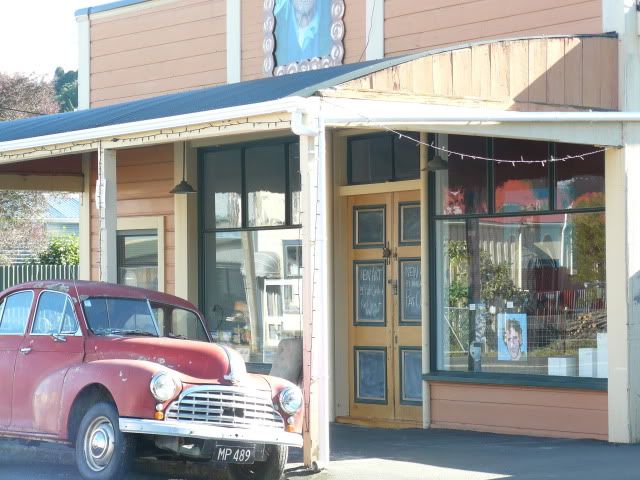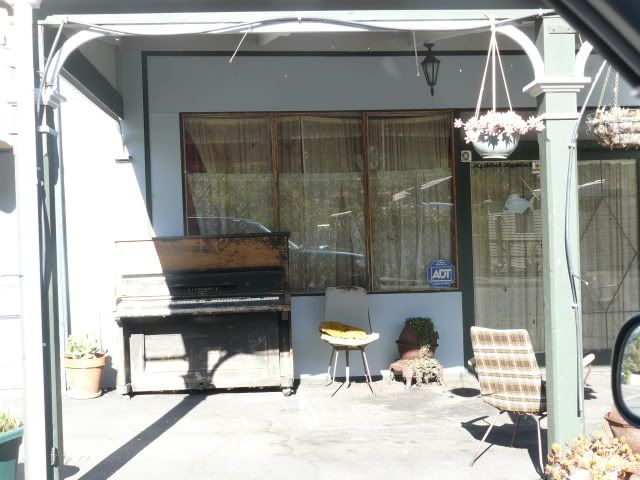 And so we are safely home again. Saw a car burning itself out on the way, with the supervision of a fire engine. Otherwise just a lot of road works and long waits for one lane to open and let us through in several places. We're back and I have to fight the things I left behind. But at least I feel able to try and get on with it now. A break away for even a few days is definitely a good plan. Mind you, I'd love to spend a week in Mangaweka, just me and my writing book...