April 11th, 2009
My friend who upset me so on Thursday made her peace with me on Friday during the Walk with the Cross around Seatoun on Friday morning. She walked with me and we talked of many things without mentioning school and ...well, I guess that was that. Okay now. But it's a reminder to never let my guard down. I'm not tough like some people. Things like that - get to me, for ages. Hugs to Hannah, for thinking of me and saying so *g* xxx now i owe you an e-mail xoxo
The walk with the cross found us with a perfect sunny day, and we all stopped by the sea, glittering blue across the harbour, and it was just magic. Then a bunch of Christy's World Youth Day friends came round for a shared meal, and after that I left them sharing some prayer on the deck in the sun while I went off to get the oh-so-boring 3p.m. service started. They joined us in time for the start, and chortled hysterically behind me when the Codfish sang his solos about the cross.
After the Mass one of the boys wanted me to braid his rat's tail, and then we took Christy's friend to the railway station. But driving back round the bays yesterday evening, there was the most amazing moon rise over the harbour! OMG it was beautiful. Pale lemon sky, soft grey sea like velvet... We dashed home to get our cameras but it got dark too quickly. SO we drove through the tunnel instead, and here is the moon rising over the Orongorongos/Rimutakas and across from Seatoun...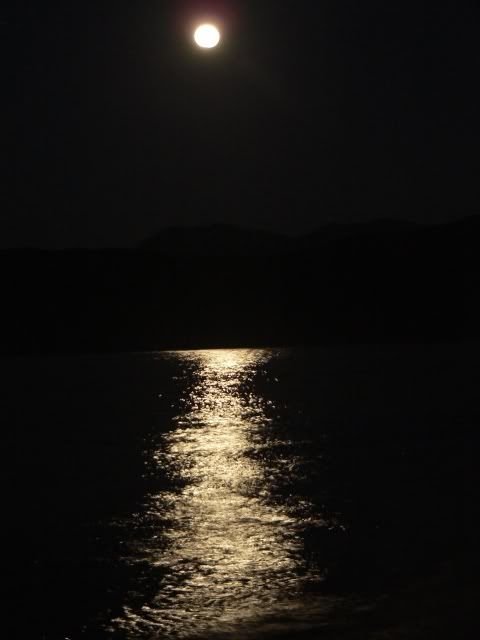 Hey, team. It's Saturday night. I have to go to the Easter vigil soon. I don't really want to but everyone else in the music group seems to have fled the country ;-) very wise. So it's up to me, along with the entire Samoan choir LOL who probably don't have the money to flee the country.