We've been up the mountain and have conquered it... well, not quite but at least we did get up there. The first day, wild, cold, so windy we could hardly stand, was disappointing. Although we got a refund, it felt like we missed out and I didn't think it was much of a birthday present for me, trying to keep everyone happy in the cold and rain with nothing much to do in Ohakune (very small town... village) so we drove to Raetihi, Horopito and round about until our good friends arrived from home on their way to a holiday further north (they booked a room at our motel at the last minute) and we all went out to a teeny tiny but authentic Italian restaurant for a birthday dinner! It turned out to be a good day.
The mountain was closed on both sides on Tuesday (there is Turoa skifield near our motel and Whakapapa almost an hour away further north on the same mountain) so we drove to Tokaanu and swam in the hot pool there and had lunch in Turangi. That is another small town although bigger than the ones we had been in and it's rather rough. We didn't stay too long.
This morning we should have gone home but Whakapapa was open and the challenge was upon us. So we drove north and headed up there. It was glorious, the weather got better and better and I sat out in the sun at a table the whole time and never felt cold at all. The children had a great time and now feel like they can really snowboard. None of them want to ski. I wrote. We left at 3pm, just as the winds were rising and snow was falling.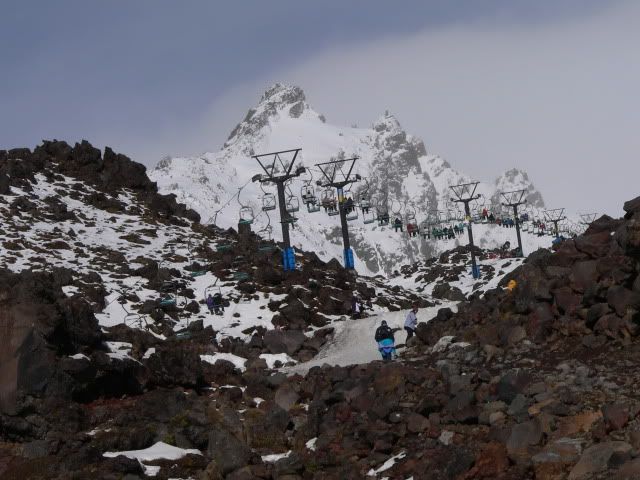 The mountain is pretty rugged. It's volcanic and the snow isn't very low yet.
It was a wonderful day and made the trip worthwhile. I'll post some pics as soon as I can. Then we drove home - that took over 5 hours.
So I'm a whole year older and a lot wiser about the snow thing. I now know how to be a snow parent. I always wanted to but was a bit hesitant about the whole 'what to do' thing. It was great. A bit scary (the roads up to the snow are pretty fearful) and very expensive but fun for sure. I have driven over 1000km since Sunday ...and tomorrow we can rest.
Finn about to head off down the slope by himself for the first time (see how he does that Rob Lowe thumbs up!!).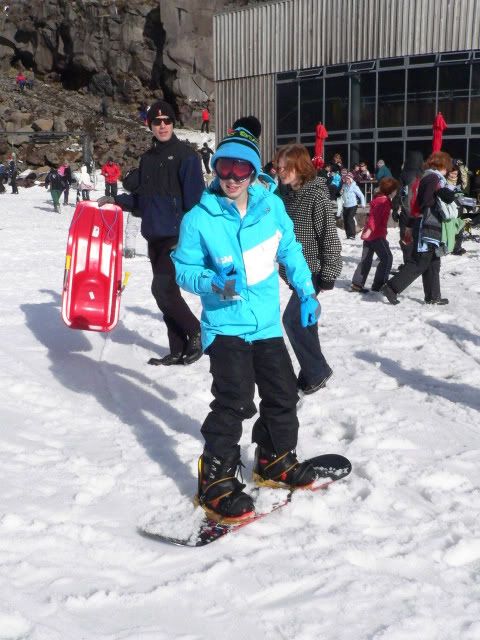 We're back!