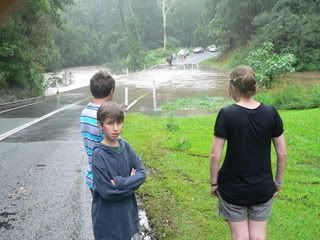 But of course we're safe here in Wellington. It's a lovely, dry but very dark night. However the news in QLD just gets worse all the time. When we were there just before Christmas, I was looking at the suburb of Fig Tree Pocket and told the children I'd like to live in a suburb with such a cool name. Now it's on the list of flood-threatened places. I hope people can find safe places to stay overnight. They are saying it'll be worse than the '74 floods. We had floods here in '76. Where I lived in Ngaio, it was fairly spectacular. But nothing like Oz.
I'm on a clearance rampage at home, throwing out stuff, clearing out old toys for the Bazaar and generally doing domestic cleaning. The Christmas tree hit the garden today and I swept up all the pine needles. It's a new year and I hope I can make good use of it. What will I do?
Be tidier.
Write without reservation.
Study hard (Dip. Rel.Ed.)
Be more thoughtful and listen more than speak.
Have a damn good year.
Keep finding the funny.
I drove up to pick up Christy and her boyfriend in Karori, a suburb on the other side of town in the hills. It was dark (midnight) and after watching hours of Sky News reports on the floods in Queensland, I felt like each time I came around a corner, I would encounter flooding. We have met flooding in Queensland before - remember this?