Later the children all leapt into the para pool, jumped on the tramp, played Taranaki rounders and the older ones took turns on a tiny motorbike. Idyllic, and surprisingly good company for the day, and as designated driver I got to drive the big 4WD back over the Rimutakas in the dark! It leaps ahead to 120 km/h without you even noticing! Not on the hill road though ;)
I took a heap of photos, but I'll share one here... um... here are most of the group getting ready to hit the water!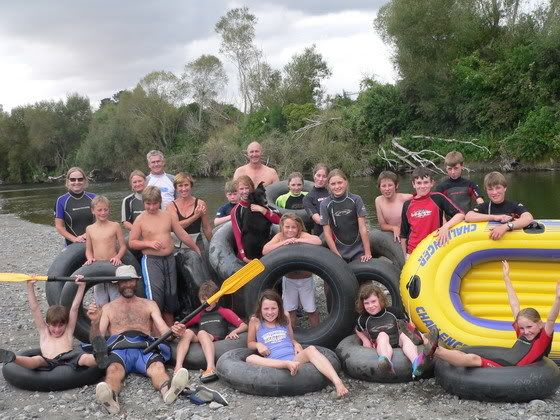 *yawn* long day! Fun day. Not one fight amongst the children, no whining, no bothering the adults who sat on the deck and sipped wine *g* Nice to get away with good friends. Nice to all get home safely. I was very, very fortunate today.
Okay it's late, it's late and I'm rushing to bed, so I'll get to answer comments and posts tomorrow but I wanted to say, hey, I've been on an Adventure today! My friend and I shared her father's huge and dusty Pajero 4WD and we drove a bunch of children over to the Wairarapa. Christy went with another friend, Finn went up the night before, and eventually we all met at our friend's property up there near Greytown, for what could pass as a parish picnic LOL! There were about nine adults and nineteen children at that point and we had a great time. It was overcast but dead calm, and we took everyone down to the Waiohine River and they jumped in huge innertubes and floated down! Three of us drove the vehicles in two trips to the lower end, beyond where the Ruamahanga River meets, and then we could all go back to the house again. It was peaceful and the river was like ripply glass (unlike the raging torrent last time we were up there!). Everyone had a wonderful time floating along.