Here're Asher and Finn, part of their whole group pic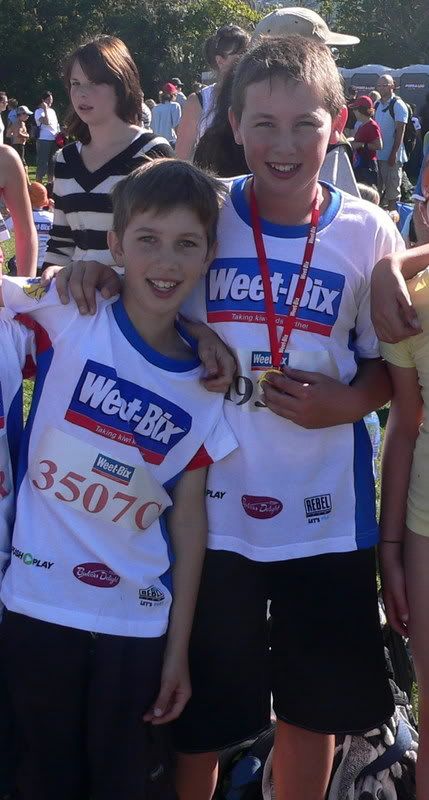 Hard thing was, my friend whose husband dumped her in January - well, the husband was there today with his daughter who is Finn's friend. He called my cell phone early on to check on something, and I was floored. How do I talk to him? In the end I treated him as normal, and just talked about ordinary things throughout the morning. When another friend arrived, she glared daggers at him the whole time. After everyone had gone but him and me (our children had to wait to collect the bikes) I took the plunge and said to him, 'You do realise you're in the bad books with a lot of people.'
He said he knew it. And he was kind of defensive, trying to say it's his marriage with Jill, and no one else's business. I could see I didn't want an argument. So I just listened. He thinks he can separate the marriage from the other things, like family. He said he hoped Jill's friends were just being supportive of her. I said that we were. It was a hard conversation. I'd have loved to tell him he was an asshole, but I just couldn't. I have known him for years, I always thought he was okay, I didn't want to fight there at the park. I'm glad I said something though. I couldn't leave it all totally unsaid. My friend deserves better. The bastard ought to feel the pain too.
But it was a great day out, hot, fun, busy, organised and well worth it. All competitors get a medal, a t-shirt and a few treats. And the children loved it.
And the road trip - I've booked my friend on the farm, booked a holiday camp place in Wanganui, waiting to hear from Taumaranui, have to write to friends in Rotorua, but it's starting to come together *g*
Phew! Now that day is over! We got up really early and were on the road by half past seven, two bikes on a bike rack on the back of my Subaru! I've never done that before. And we got there in time. Thank God for cellphones - with 1600 competitors there, it was hard to find each other to start with. Finally I told one dad who'd called my cellphone while lost in the crowd, to just hold up his hand, because we were apparently in the same transition area... he did that and he wasn't more than ten metres away LOL! Christy and I met up with the teams and their parents and I gave out t-shirts, wrote numbers on swimmers, all that stuff. We'd entered two teams of three, and Asher as an individual. They have to swim, ride a bike then run. It was a beautiful day, glorious weather!