I was just talking to
sheaj34 about church windows and it reminded me so strongly of the day a friend took me to Mainz, in Germany, that I have to write about it right now! So you'll have to bear with me! *g* It was a wonderful day, fine weather, sun shining, and such excitement and nervousness on my part! We had such a great time, thank goodness, and we went into all sorts of churches even though my friend didn't like churches and hadn't been in one for ages. She was so kind that day to take me to so many churches and interesting sites. The church with the windows by Chagall was the most amazing, because the blue glass tinted the whole place with a blue 'air' and it was magical. We'd had to sit outside that one and wait for the doors to open after lunch, and we chatted about all the friends we had in common on the Net. And we hadn't met before and we were kind of feeling our way and it just was so wonderful, to be in Wiesbaden/Mainz and to meet someone so special from the Net. I have to admit, looking back, that I had the most amazing day that day, it felt so right, and so magical and so special. Memories like that are really special, especially when they happen on the other side of the world! I'll see if I can find some pictures that reflect that day, hang on...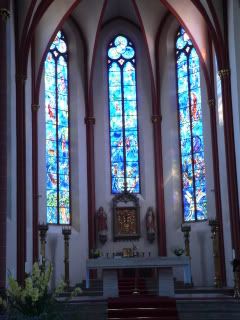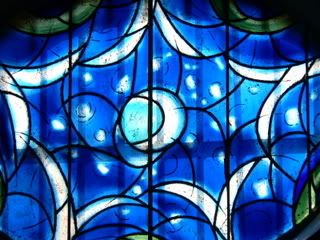 Okay, I got carried away. But *sigh* it was such a wonderful day... I have my pictures and my thoughts and my memories. I'll never forget it. The friend I had. The day. Those windows. Germany. Amazing place. So different from here, it's unbelievable.