Here is the group, the cross is carried flat, by about eight to ten teens at a time - you might be able to see it near the front of the group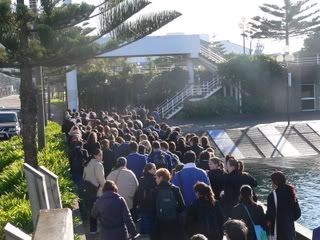 And here is the cross against the blue sky at Parliament - I took heaps more pics, I'll show you later - but it's a simple cross - it's been to Ground Zero, Rwanda, Communist Prague (a while back now), East Timor...
The Archbishop walked with us, and the Prime Minister came out to speak to us. Archbishop John walked the PM round the crowd, and two of my girls nabbed her for a photo by me!! Amazing, huh, not much security needed here!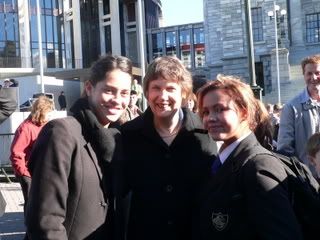 But as a bonus I did see the real Dalai Lama, getting out of his car, and there was heaps of security for him as they hustled him up the steps of Parliament!
I'm off to bed - I've been marking senior assignments all evening - but we did the World Youth Day cross pilgrimage walk, and it was the most brilliant sunny day, after all the rain in the weekend, it was magnificent. We were so blessed.