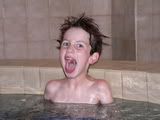 I remember the anaesthetist buggering up the epidural so that I had to lie flat for forty eight hours. I didn't mind, it meant I got a room to myself in the hospital! I remember checking and rechecking hoping just slightly that Finn was really a girl, but he wasn't. I remember his baptism, one of the last times I saw my brother, I think, although I'm sure we'll catch up with him again one day. I remember the GP sending us to a child psychologist to see why Finn was so difficult, and we thought he might have a brain tumour. But he was just a very frustrated toddler, I think. We couldn't say the word 'no' for a long time without endangering our health. And I was one of those mothers you see in the supermarket with a screeching, writhing, scratching child, the one all the old ladies stare at and make tut-tutting noises with their tongues, while poor Christy and Asher trailed along behind. I remember him dropping the eggs on the floor one by one when we were rebuilding the kitchen and Christy had moved the box to the kitchen table. I remember relieving at Finn's preschool and teaching the children some songs, then working in Finn's first and second year classrooms with an autistic child. Finn never minded me being there, and never really took any notice! I remember when Finn wouldn't do anything unless he was a guinea pig, or occasionally when he would morph into a character called Lizzie. We have photos of him as Lizzie! I remember Finn's first communion, where he wore a tie and got excited at the lollies on the table at the breakfast. I remember rushing him to the After Hours clinic one time with a high temperature and they plugged in a fan to blow on him to cool him down! Finn has never had the accidents Asher has had, but he did break his arm the day my father died. Finn draws amazing pictures and makes unbelievable power points. He's good at maths and plays the violin. He loves to draw. He drew this when he was about eight...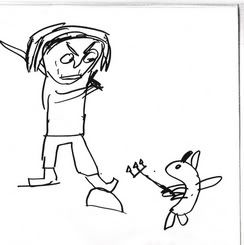 He obsesses over a green soft toy lizard called Monty and he'll do anything for chocolate. In fact, I don't think he'd live without chocolate. And now he's eleven. We've had him around for eleven amazing years.
And so another day is almost over. We have bought cakes and corn chips in advance, knowing two extra boys will be coming to afternoon tea. It'll be Finn's eleventh birthday. Eleven. Where did eleven years go, since he was born?